Open 7 days a week, dishing up your supper club favorites!
We look forward to serving you for many years to come.

We will start serving Friday fish fry and baked fish options on Friday Night starting at 4:00.
ALSO AVAILABLE for Friday Nights
Provolone Chicken Dinner
Bone in Chicken Wing Dinner
Kids Chicken Strips
We will then be open Sunday, Wednesday and Friday nights starting at 4:00 thereafter.
Outside pick up only. Call 715.836.9003 or send a Facebook message to place your order.
Please include color and model of your vehicle. Your server will bring your dinner to you! Thank you for your support during these times.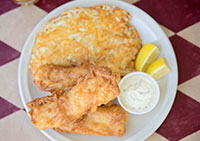 Friday
Fish Fry
We know how to do fish fry! Beer battered or baked cod, made to order. Have it baked with lemon pepper or Cajun for extra flavor! We're also serving walleye, lake perch and shrimp all night on Fridays!