Open 7 days a week, dishing up your supper club favorites!
We look forward to serving you for many years to come.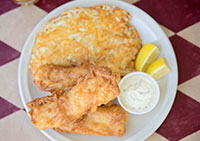 Friday
Fish Fry
We know how to do fish fry! Beer battered or baked cod, made to order. Have it baked with lemon pepper or Cajun for extra flavor! We're also serving walleye, lake perch and shrimp all night on Fridays!